Bluewater Pools Cairns Gallery of Swimming Pools
Let us show you today how easy it is to have a truly magnificent swimming pool designed and created by Bluewater Pools Cairns for your back yard CONTACT US NOW.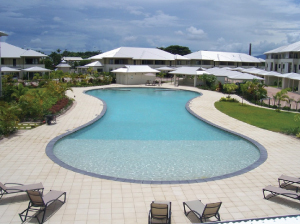 Commercial Pools
Bluewater Pools Cairns have been constructing Commercial Pools in and around the Cairns region for many years. This example shows a beach type shallow end leading to a deeper area at the end and surrounded by a beautifully tilled relaxation area.and leisure area.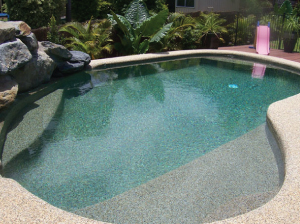 Tropical Pools
A typical key hole shape design forms the basis of this swimming pool. It has a Gold Pebble finish with an appealing rock waterfall as the filtrations system return. The ledge under the return is an ideal place to relax in this swimming pool.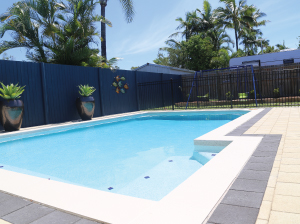 Backyard Pools
A great traditional back yard pool. Finished in blue sheen and complimented with an effective selection of pavers makes this pool timeless. A stepped entry with a relaxation bench fitted with spa jets makes a pool like this a great asset to your families fun time.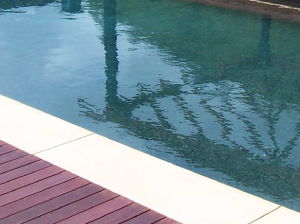 Exotic Pools
Bluewater Pools Cairns can create for you an exotic look. Combining dark Blue Glass Pebble interiors with lighter coping and adding earthy timber surrounds and exotic faraway look can be achieved totally transforming your back yard into an exotic paradise.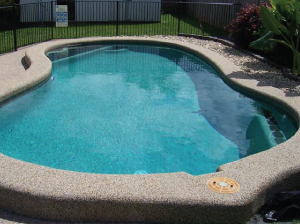 Free Form Pools
Free form swimming pools from Bluewater Pools Cairns can be created in almost any shape, size or depth. Choose form any existing design or create your own unique shape to suit your own back yard.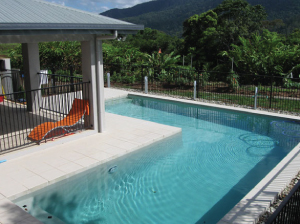 Custom Pools
Different and unique sites require different and uniquely individual solutions to create a truly custom swimming pool. Your site and existing buildings can be greatly complimented by the right custom swimming pool form Bluewater Pools.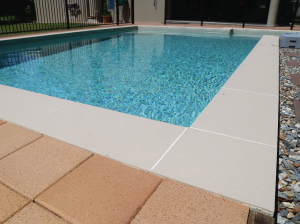 Courtyard Style Pools
Any stylish courtyard will be enhanced by a swimming pool styled and crafted by Bluewater Pools. The use of stone, tiles and pebbles all go towards creating that special courtyard look and feel.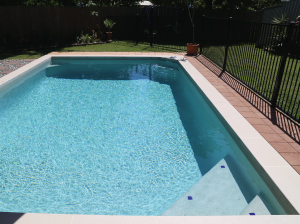 Budget Pools
A traditional shaped swimming pool can also tick all the boxes. A standard quality swimming pool in your back yard can be built to suit the most discerning budget and still create a unique feeling to your entertainment space