Swimming Pool Finishes
Having the best constructed swimming pool with the best of pool equipment is only half the story. The finish and material used is the half that every one sees.
To make your new pool the centre feature of your entertainment and garden areas, it must look sparkling and be inviting at all times.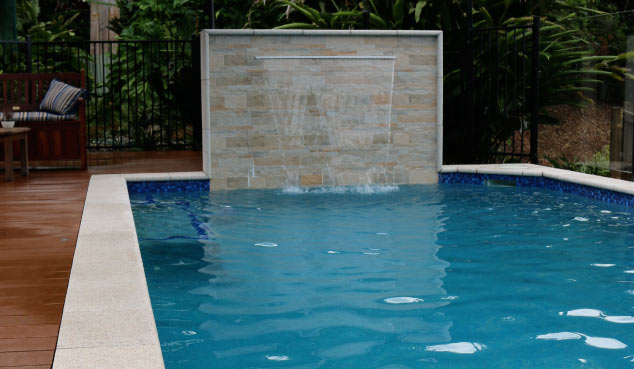 Bluewater Pools Cairns have an exciting range of finishes to cater for all situations and tastes, from a traditional fine or course pebble, to the exciting range of Blue Glass Pebble Company's glass pebble interiors there is one to suit you.
Premixed Glass Finishes
The Blue Glass Pebbles from Bluewater Pools Cairns can make your pool look like a million dollars! The fabulous manufacturing process means your pool will shimmer and shine (as only glass can!) for years and years, without fading.
Choose a glass pebble pool finish type from our gallery below, to see the difference Blue Glass Pebbles from Bluewater Pools Cairns can make.
Pacific Glass Pebble

Noosa Glass Pebble

Midnight Glass Pebble

Mediterranean Glass Pebble

Emerald Glass Pebble

Lagoon Glass Pebble

Tropical Oasis Glass Pebble

Whitsundays Blue Glass Pebble

Kirra Blue Glass Pebble

Fijian Seas Blue Glass Pebble

Glacial Blue Glass Pebble

Custom Blue Glass Pebble
New Zealand Pebble Finishes
Blue Glass Pebble Company are suppliers of premium pebbles for swimming pools and are used exclusively by Bluewater Pools Cairns. All our white aggregate is sourced in New Zealand and is 100% natural.
Our New Zealand white pebble is sought after for swimming pool construction not only for its true white colour with very few imperfections, but also for its exceptional quality all of which are naturally occurring characteristics.
When used in pools, it gives a refreshingly clean crystal blue hue to the water making a swimming pool very inviting with a crisp, vibrant finish.

New Zealand White Pebble

Awarua White Pebble

Ebony Pebble

Full Black Pebble
Otara Gold Pebble

Jade Pebble